Biography
RICARDO SEBASTIAN BORLA

He was born in Capital Federal on October 30, 1972.
He studied secondary school at the technical school "Maipú" (Enet No. 15 of the Capital Federal). On the verge of receiving an architect's love for painting, he could ...
His artistic mentors belong to his closest family circle, his grandfather Ricardo Miguel Borla and his cousin, the renowned plastic artist Héctor Borla.
During his time as a university student, he took classes with teachers Ernesto Bertani and Marcos Borio. From that period he completed his training as a self-made person. He received special mention by drawing of the Instituto de Intercambio Cultural y Científico Argentino Israelí (Buenos Aires, Argentina).
In 2004 he made his first solo show at the "Galería Rubbers International" (Buenos Aires, Argentina). From that date the recognition of criticism was born.
In 2005 his career had the encouragement of being crowned with an individual sample in the historic "Salón Azul del Honorable Senado de la Nación", for his contribution to the national culture. In this sample he was awarded a diploma of honor, by the Vice President of the Nation, Daniel O. Scioli.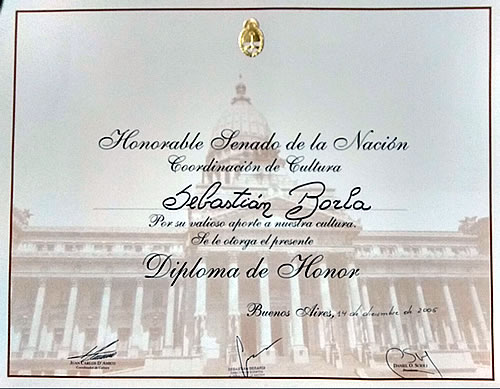 In 2006 he participated in a group show at the Sheraton Hotel.
In mid-2006 he was chosen by an art commission of the company "Indigrafía" to reproduce authenticated sheets of the original work, through a contract.
From June 26 to August 25, 2009, (then extended to September 9) made an individual sample in the Unidad de Comunicación Presidencial - Dirección de Sala de Conferencias y Registro Audiovisual, in the Casa de Gobierno de la Nación Argentina.
Participated in the Art and Culture program of Digital Television "Arte y Distinción".